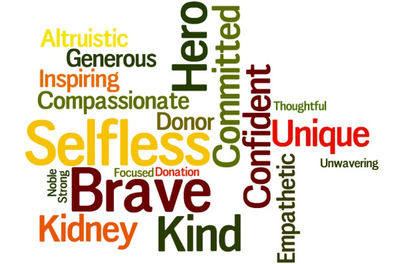 For those who have done the initial screening and are still considering donation.
(
THANK YOU!!!)
For those out of town, you may be asked to get some blood work done before coming to Kansas City. KU EVALUATION
You will come to KU for about 1 1/2 days of evaluation at the Center for Transplantation. These are done on Thursday and Friday. You will have blood work, x-rays of your kidneys and chest and be evaluated by members of the transplant center team. You will also learn more about the donation and transplant process. You can come alone or with a significant other.
There is
NO COST
to you or your insurance for this evaluation. It is covered by our insurance.
For further information, here is the KU website link to the living donor program:
https://www.kansashealthsystem.com/care/specialties/living-kidney-donation
TRAVEL ARRANGEMENTS/ SHONKWILER HOSPITALITY
We know this is a significant gift of your time to undergo this evaluation. We don't want this to be a financial concern for anyone!
For those out of town, we are more than willing to pay for your flight/transportation and expenses for the trip. We are glad to provide a hotel close to KU or you are always welcome to stay with us, whichever you prefer!
Be aware, if you stay at our house you will be loved by our Basset hounds, have lots of food cooked for you and be gently coerced to play board and card games! :)
(Legalese: Paying for these donor-related expenses is allowable by law and is not considered compensation for kidney donation.)
SCHEDULING/ TIMING OF TRANSPLANT
Once a donor is found, the next step is to plan the date! When the transplant will be done is based on several factors: how Caleb's kidney function is doing, whether he's having a lot of symptoms and of course at the convenience of the
AMAZING
donor!